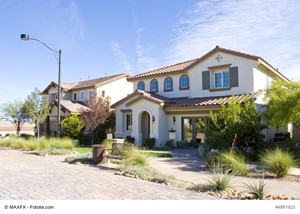 Believe it or not, upgrading your residence's curb appeal won't necessarily force you to break your budget. Now, let's take a look at three cost-effective ways to improve your house's curb appeal.
1. Mow the Lawn
Tall grass and weeds are unlikely to do you any favors, particularly if you want to reap the benefits of a fast, profitable home sale. Fortunately, if you spend some time mowing the lawn and trimming the hedges, you may be able to boost your house's curb appeal.
It generally won't take long to perform lawn maintenance tasks. Then, once you complete these tasks for the first time, you can set up a schedule to complete them every week or every other week until your residence sells. That way, your lawn will continue to look great in the eyes of potential buyers.
2. Clear the Walkways
Dirt, dust and debris may make your home's exterior walkways look messy. Perhaps worst of all, these problems may drive prospective buyers away from your house.
On the other hand, neat, tidy walkways could help your residence stand out to potential buyers. If you devote time and resources to sweep and clean your house's exterior walkways, you can increase the likelihood that your residence will make a positive first impression on buyers.
3. Remove Decorations
Although plastic flamingoes, lawn gnomes and other home exterior decorations have helped you distinguish your house from others in your neighborhood, now may be a good time to put these decorations into storage. Because if you keep decorations on your lawn, it may be difficult for a buyer to envision what life may be like as the owner of your house.
Remember, your goal as a home seller is to make your residence as appealing as possible to prospective buyers. By removing home exterior decorations, you can show off your residence's full potential. As such, you can make it easy for buyers to fall in love with your residence as soon as they see it for the first time.
As you search for ways to upgrade your house's curb appeal without breaking your budget, you may want to consult with a real estate agent too. This housing market professional is happy to provide home selling recommendations and can help you transform your home's exterior from drab to fab.
Typically, a real estate agent will provide expert guidance at each stage of the house selling journey. He or she first will help you craft a home selling strategy and promote your residence to dozens of prospective buyers. Plus, once you receive an offer to purchase your home, a real estate agent can help you analyze this proposal. And if you accept an offer to purchase your house, a real estate agent will do whatever it takes to help you quickly finalize your home sale.
Ready to list your residence? Upgrade your house's curb appeal today, and you can move one step closer to achieving the best-possible results during the property selling journey.