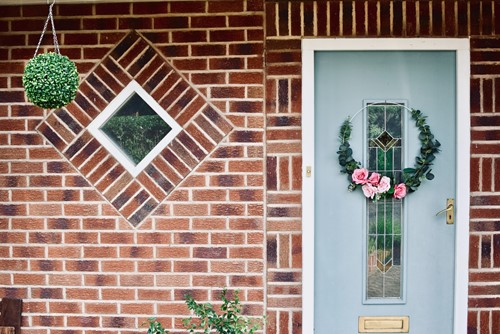 Your front door is not only the entrance to your home but it's also the one feature of your home's exterior where your personality can shine through. Decorating your front door with a wreath, hanger or another accent piece allows you to showcase your style and set the stage for what people can expect inside your home.
Fortunately, you don't have to rely on expensive decor from boutiques in order to have a beautiful front door. There are many crafts that allow you to create your own front door decor.
Here are a few ideas to consider:
Floral Monogram Hanger
Floral monogram hangers are incredibly popular, as these statement pieces are a classy and elegant way to enhance your front door. While these decorations are trending, it's important to know that there are many unique ideas available allowing you to create a one-of-a-kind piece to call your own. Some floral monogram ideas you may want to look into include:
Large letter wooden monograms covered in fake flowers.
Floral wreaths with a painted wooden letter hanging in the center of the wreath.
Wreaths made of succulents with small wooden letters detailing your family name or monogram.
Homemade Wreath
A wreath is a timeless front door decor option but they can also be a hefty investment if you choose to purchase a pre-made wreath. Fortunately, with a few common craft supplies, you can create your own homemade wreath for your door. Many people enjoy making seasonal wreaths to add a touch of festive fun to their front door throughout the year. Here are a few ideas you may want to keep in mind:
Create a winter wreath made of fresh holly, glittering snowflakes or white holiday lights.
Design a spring wreath with silk flowers, plastic succulents or pastel bulbs.
Make a summer wreath with bright greenery and add pops of color by incorporating fake citrus into the wreath.
Craft a fall wreath using pretend fall leaves, small plastic pumpkins and styrofoam gourds.
Front Porch Plank Sign
Instead of hanging something on your door, you can decorate it by setting a large plank sign next to it. These signs are one of the simplest front porch crafts you can make and the possibilities are endless. All you need to do is finish, paint or stain a large piece of flat wood and then paint a design or favorite saying on it. Some ideas for sayings may include:
Home Sweet Home
Welcome
Gather
DIY Door Knob
Sometimes, it's the smallest details that make the biggest difference. In order to bring a touch of life to your front door, you can remove the standard door knob and paint your own. For this craft, you need an unfinished wooden door knob and your favorite paints. When you are done designing it you may want to seal it to protect it from the elements.
Front door crafts are excellent because they are generally easy to complete and require minimal supplies. Whether you have just moved into your new home or you are looking for a fun way to freshen up your curb appeal, these craft ideas can help you put your own stamp on your home.