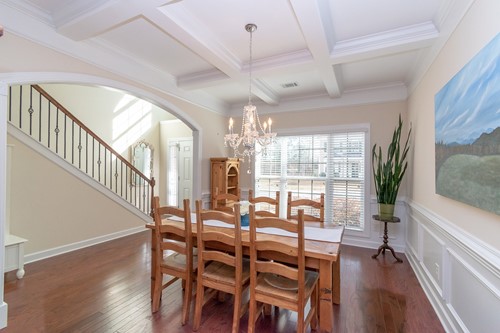 When putting together a room's design, there's one area that often gets overlooked above all others, and that's the ceiling. There are a variety of interesting things you can do with a ceiling to bring life to a room. Some ideas will give the space an elegant look while other things will even help enhance the room's lighting—without the addition of new light fixtures.
If you're searching for design ideas, don't skip the ceilings. Instead, try one of the following.
1. Gloss Finishes Brighten
People don't normally think of high gloss finishes when they think of ceilings, but this is a trend that is taking off for two good reasons. Gloss, whether it's glossy paint or a gloss wood finish, draws attention upward while also reflecting a lot of light. Lamplight or sunlight streaming in from windows—either way, the reflection helps make the room look much more spacious.
2. Wallpaper Isn't Just for Walls
Looking for an unusual way to make a statement? Interior designers are turning to wallpaper as a creative way to change up the look of a ceiling. This is another technique that draws a lot of attention upward, and it has the added advantage of making a bold statement.
3. Choose Bright Colors for Low Ceilings
Low ceilings can make a room feel cramped even if it isn't—and this is an effect that can be heightened if the room has a dark color scheme on the walls and ceiling. Brighten things up and give the ceiling a lift by choosing light shades to contrast dark walls. This also helps brighten the room, which is another way to make it feel a little more expansive.
4. Try the Beamed or Coffered Design
This idea will help you add extra style to interior spaces. Beamed ceilings and coffered ceilings both, whether the style is rustic or elegant, lend a high-end feeling to a room. Coffered ceilings can be created with lumber or repurposed crown or base moldings. You can just do simple lines or choose lumber with intricate edge profiles for a more classical look. Then there's the layout itself.
Coffered ceilings are typically done in square patterns, but there's nothing stopping you from making hexagons or using squares and rectangles in differing sizes.
Beamed ceilings work similarly in that you'll use lumber to give the ceiling depth and texture. Here, however, the designs are usually simpler, as if structural beams have been left exposed. Because of that, this style often works well with rustic themes.
Even though ceilings are sometimes left out of the design process, there really are many ways to turn them into a thing of beauty. Your ceilings don't have to be flat or understated. Use one of these ideas or come up with your own to draw attention to this key piece of the room.